Dr. Guarino helps individuals in Allentown, PA achieve flat stomachs with abdominoplasty. Sometimes, a firm and toned abdomen cannot be attained through diet and exercise alone. A tummy tuck enhances the appearance of the abdomen by removing stubborn fat pockets, trimming away excess skin and tightening the muscles of the abdominal wall. This popular procedure gives individuals a flatter, firmer looking stomach. Dr. Guarino will remind patients that a tummy tuck should not be used as an alternative for weight loss. This surgery is recommended for healthy individuals at or near their ideal weight.
Tummy Tuck Reviews
"Best experience ever!!!!! - For many years i have been contemplating Lipo Laser or Tummy Tuck. Finally I made a decision and came to Dr. Guarino because he had such great reviews. Well let me tell you I had the best experience ever!!!!! From the very first phone call, ton the OR and follow-up appointments.Today was my second post- op appointment for" my beautiful new belly button stitch removal". He is WONDERFUL!!!!!!! Dr. Guarino answered every question I had he was lovely to talk to. His artistic sculpting skills sharp and superb. My incision although only 2 weeks post-op is very clean, very thin, very beautiful. At first I almost rejected the tummy tuck because of the scar the incision would make. I actually preferred Lipo Laser to the Tummy Tuck.He explained the pro and the cons of Lipo Laser and explained I was a better candidate for a complete tummy tuck! He explained every procedure to my understanding. I made my mind up and had my Tummy Tuck and Lipo Laser soon after. Thank you Dr. Guarino for a job so well done. I love my new curves and 6 pack lolol. So happy very satisfied and I look better beyond what i thought I would.. Flat tummy small waistline minimal scarring and best of all close to nothing stretchmarks Yeeee haaaaw!!!. By the way very affordable as well... I highly recommend him."
- Y. /
Vitals /
Jul 31, 2013
"LOVE HIM : ) - I trust him 100% percent..!!!I have gotten botox and other injectables....He has always done an amazing job..I was referred by a friend who had gotten a tummy tuck by him...she looks fantastic..He has a wonderful bedside manner and is very gentle.I have gone to other surgeons before him and was not happy. I am sticking with Dr. Guarino for all of my cosmetic needs..I find no need to go elsewhere."
- Anonymous /
Vitals /
May 10, 2011
"I had a Tummy Tuck just recently..He did an amazing job and everyone is his office was so sweet. I am going back later on next year to get my nose done..I highly recommend Dr. Guarino is very attentive and easy going has a great bedside manner..He did not make me feel uncomfortable at all. CP"
- Anonymous /
Vitals /
Jun 28, 2011
"41 Years Old 3 Kids Had Tummy Tuck Now Having Breast Lift and Saline Implants - Allentown, PA - Hello everyone! I have always wanted breast implants but always put that to the side. My husband and I talked about it over a year ago. He gave me the option to have a tummy tuck or breast implants last February of 2013. I choose tummy tuck! I love my tummy tuck and I love my doctor!! I went for a consultation with Dr. Guarino on March 3rd. We went over my options and the outcome was he wouldn't suggest breast implants without a breast lift. We had a feeling I needed the lift but I was hoping otherwise. I was concerned that having a lift I would loose my feeling of my nipples. Dr. Guarino said there is a chance but not a high chance of that because they don't cut any nerves. We ended up signing the papers and getting a surgery date of March 24th at the end of our consultation. We agreed upon using High profile Natrelle saline implants. I am currently a size 36B. Would like to be a size 36D. We are gonna get 430cc in each breast at this time. He said during the operation he will fill the implants to the max. I brought home all the paperwork that tells me what to do and not do.I'm not gonna tell everyone about this operation this time around until afterwards. I have told two of my friends only because they had implants done. I like to be able to talk to them about my chooses and concerns. This is why I love real self for all the great info and suggestions. I'm so excited!!"
- L. /
RealSelf /
Mar 04, 2014
"35 Years Old, 3 Kids and Much Needed Tummy Tuck - Allentown, PA - Spoke with the front desk and I have an appointment for a consultation on April 24th. I am really looking forward to hearing his opinion on what I need and I'm so excited to be on the the journey to the flat side for the first time in 13 years!! - - I am 35 years old and had 3 kids by C section. My love bugs are 13, 4 and 16 months. I have had a tubal ligation so children are no longer in my future. Made an appointment for TT consult with Dr. Guarino in Allentown PA and I'm so excited! He has gotten great reviews. So here's what I'm working with"
- L. /
RealSelf /
Mar 30, 2015
Previous
Next
A traditional (full) tummy tuck is suitable for both men and women who have a moderate amount of excess skin in their midsection. It is commonly performed on women post-pregnancy. During this surgery, the incision extends from hipbone to hipbone, which grants the surgeon access to a greater portion of the internal structures. Liposuction is used to remove fat and the abdominal muscles are pulled and tightly secured. The belly button is usually repositioned for natural placement.
Individuals who are in relatively good shape but desire a flatter tummy may be good candidates for a mini tummy tuck (known as a "Brazilian tummy tuck"). These patients have loose abdominal fascia, but the muscles aren't stretched to the point where a full tummy tuck is necessary. During surgery, a smaller incision is made along the lower abdomen, liposuction is used to remove excess fat, and the remaining skin is pulled tight. The belly button is not affected by this surgery.
The extended tummy tuck is reserved for patients who require major skin tightening and body contouring following a major weight loss. The extended tummy tuck requires a longer incision that extends beyond the hips, as well as another one around the navel. Liposuction is used and the excess skin is trimmed away and tightened. The belly button is repositioned during this surgery.
A tummy tuck is performed under general anesthesia in an accredited surgical facility and typically takes around 2 hours to complete. It is considered an outpatient procedure. After surgery, patients will wear a compression garment and will need to rest for the first 48 hours. They should make a concerted effort to move around in order to help promote blood circulation, but should only attempt to initially stand at a 45-degree angle to protect the incision. Pain medication will be provided to help with post-operative pain. Clearance to resume exercise is usually given around 4-6 weeks.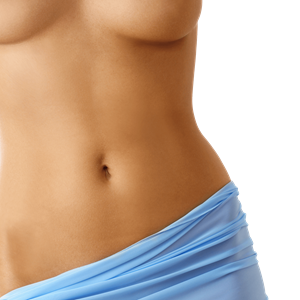 Plan Your Procedure
Average Cost

$7,500

-

$9,000

Recovery Time

2 Weeks

Average Procedure Time

3 Hours

Post-op Follow-up

Varies

Procedure Recovery Location

In-Patient
Contact Us
Patients who have loose skin in the lower abdomen may be better candidates for a skin tightening procedure such as a tummy tuck. If a patient is battling unwanted belly fat, but otherwise has good skin tone, liposuction (which removes fat only) may be all that is needed.
Abdominoplasty can be combined with another cosmetic procedure, such as breast augmentation, a breast lift or liposuction that targets another area of the body. This is sometimes referred to as a "Mommy Makeover" and is considered a common practice, especially where pregnancy, weight gain and breast-feeding are concerned.
Unfortunately, scarring is a part of this procedure. However, every effort is made to minimize scarring, and the incisions are generally placed in locations easily concealed by undergarments. For women who have had a previous C-section, the original C-section scar will be replaced with the tummy tuck incision. Most patients feel the physical results of this surgery far outweigh any scarring left behind.
New Pregnancy? Weight Gain?
For optimal results, it is recommended that patients wait to have abdominoplasty until after all pregnancies have been completed. This is to ensure the stretching and weight gain that occurs with pregnancy does not compromise the results of the surgery.
Related Procedures